History
UVA LIDKÖPING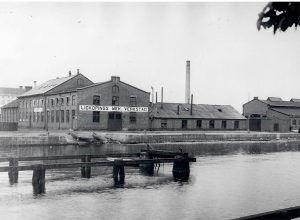 UVA LIDKÖPING is a world leader in the field of precision grinding machines and one of the oldest machine manufacturers in Sweden. The company has its origin from two separate companies; Lidköpings Mekaniska Verkstad (LIDKÖPING) and Ulvsunda Verkstäder AB (UVA), Stockholm, which were founded in 1875 and 1928 respectively.
LIDKÖPING started as the city of Lidköping's local mechanical workshop producing simple machinery, cast iron pumps, ploughs and other agricultural products. Also boats and steam engines were produced. The LIDKÖPING machine tool manufacturing started in 1902.
UVA began with production of hydrodynamic bearings as well as gearboxes for trains. The first UVA grinding machine was made in 1943.
1875 Lidköpings Mekaniska Verkstad (LMV) was founded.
1928 Nomy AB, which later became UVA, was founded in Stockholm.
1929 LMV was incorporated as a subsidiary to SKF, the bearing manufacturer.
1931 Nomy AB changed its name to Ulvsunda Verkstäder AB (UVA).
1982 A subsidiary to LMV was founded in Germany.
1986 LMV changed its name to Lidköping Machine Tools AB (LMT).
1996 UVA was incorporated in Karolin Machine Tools (KMT).
2000 LMT was incorporated in Karolin Machine Tools (KMT) and changed name to KMT Lidköping.
2000 KMT Precision Grinding Technology (Beijing) Co. Ltd. was founded in China.
2007 UVA and KMT Lidköping merged into KMT Precision Grinding AB.
2008 Nordstjernan aquired all the shares in KMT Precision Grinding AB and delisted the company.
2009 KMT Precision Grinding Inc. was founded in USA.
2017 The company was incorporated into Dacke Industri AB, a Nordstjernan owned industrial sub group. KMT Precision Grinding and its subsidiaries in China, India, Germany and USA changed name to UVA LIDKÖPING.