Upgrade – New Dressing System
For improved seat straightness
New dressing system for improved seat straightness.
This upgrade requires that the machine is equipped
with an Acoustic monitoring system.
Advantages
Higher productivity due to less scrap
parts, as well as fewer wheel changes
are the direct advantages. In the long
run, the ability to maintain tighter seat
tolerances makes it easier to meet
increased customer demands.
Benefits
• Improved seat straightness.
• Improved control over dressing.
• Possibility to fully integrate dressing control.
• Less wheel changes, less scrap.
Deliverables
• High speed electrical dressing spindle with variable speed.
• Diamond dressing wheel.
• Frequency converter for 10.000-40.000 rpm.
• Pneumatic pivoting dressing arm.
• Additional software (PLC and NC).
• Specially designed holder.
Technology
Dressing mode – vertical view Detail – vertical view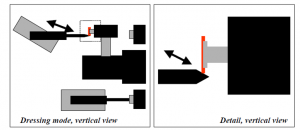 Installation
Estimated to 3 days service assignment.